Home | First lady | Activities of Silvia Gašparovičová | Year 2010 | Woman Entrepreneur of Slovakia 2010



On 9th December 2010 during a gala held at the premises of the Palugyay Palace in Bratislava, we got to know successful woman entrepreneurs of the year 2010. They handle very well the role of women, mothers and businesswomen in one person, several years they successfully lead companies, employing dozens of staff and people abroad know their work – of that kind are the winners of this year's 11th "Businesswoman of Slovakia 2010" organized by the National Agency for Small and Medium Enterprises together with the Top Centre of Businesswomen. Patronage over the project took First Lady of Slovakia Mrs. Silvia Gašparovičová.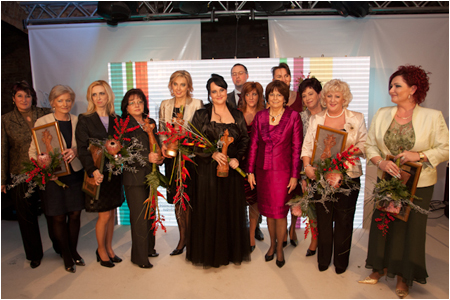 The fact that business is not easy the First Lady knows from her own experience. "To succeed in tough business competition and convince the surrounding of a man´s qualities, it costs you a great effort and you have to sacrifice to it all of your free time. I am glad that even though most of you are successful and now you have the ownership of various manufacturing companies, restaurants, confectioneries, a shipping company and a cosmetic salon and your services or manufacturing are helping our economy. For example, high-quality spectacle frames are well known and valuated in the Czech Republic, Poland, Hungary or even in Italy," said during the evening gala Silvia Gašparovičová.

Spouse of the President commended that the Slovak women entrepreneurs can at starting their business advise in associations or clubs of women entrepreneurs, where the businesswomen are ready to help young entrepreneurs to succeed.

Outstanding Businesswoman of this year became Mrs. Natália Vicsápiová from the village Vozokany near Galanta, who took the award home from the hands of Mrs. Silvia Gašparovičová. She´s the owner of a printing empire that employs 50 people in two halls and provides services to clients not only in Slovakia but also in Hungary. It is interesting that last year the company tripled its capacity and invested nearly 2.4 million euros.

This year's most successful tradeswoman is Mrs. Darina Tomajková from the village Vitanová in the Orava region, which operates in the field of housing services. The most successful Beginning Entrepreneur, Mrs. Zdenka Švábeková from Bratislava who provides services for family and household.

Into the competition "Businesswoman of Slovakia 2010" signed up more than half of women from Western Slovakia, 30% from Central Slovakia and 15% from Eastern Slovakia. General Director of the national agency Mr. Róbert Šimurka believes "that the initiative Businesswoman of Slovakia will encourage women – nonentrepreneurs to change the determined business environment, and appreciate those who have already embarked on this path and do not give up."