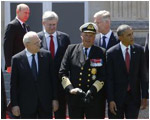 June 6, 2014

Slovak President Ivan Gašparovič attended an international ceremony to commemorate the 70th anniversary of the Allied landings in Normandy at the invitation by French President François Hollande.

The French President had invited seventeen heads of state and government to attend the ceremonial event that took place at the Sword beach, one of the landing beaches in Ouisterham, France.


The 6 June 1944 marks a key event in the history of the Second World War. The landings themselves and fights for Normandy that followed resulted in massive casualties.

The purpose of the ceremony was to honour the allies who had perished in France and the surviving war veterans, a few of whom also attended an official lunch with heads of state and government this year.
The Slovak President was accompanied by two war veterans, Ondrej Bubniak and Štefan Miklánek, at the ceremony.



June 3, 2014

Slovak President Ivan Gašparovič together with other heads of states attended a ceremony to commemorate the 25 years ...
May 28, 2014

President of the Slovak Republic Ivan Gašparovič and his wife paid a two-day official farewell visit to the Czech ...
May 20, 2014

Slovak President Ivan Gašparovič started his official farewell visit to Poland by meeting Polish President Bronislaw ...
» more news